Blog
Monday, 23 March 2020 00:00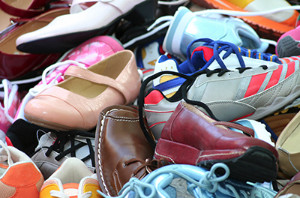 Research has indicated that adult feet have grown approximately two sizes larger than they were in the 1970's. This is a result of the human species growing taller, and the feet having to accommodate the weight and size of the body. It can be beneficial to make sure there is a half inch between the longest toe and the top of the shoe. A shoe that fits properly will feel good when it is first tried on. It is suggested to wear the socks that will be worn with the shoes you're interested in purchasing, in addition to shopping for shoes at the end of the day when the feet are at their largest. If you would like more information about how to buy shoes that fit correctly, please consult with a podiatrist.
Finding a properly-fitting shoe is important in reducing injuries and preventing foot problems. For more information about treatment, contact Dr. Harry I. Zirna from Lockport Foot Care, PLLC. Dr. Zirna will treat your foot and ankle needs.
Proper Shoe Fitting
A common concern when it comes to foot health, having properly fitted shoes can help prevent injuries to the foot. Out feet affect our posture and gait, which in turn affects the biomechanics and overall bodily structure. With 33 joints, 26 bones, and over 100 ligaments, the potential for serious injury is much greater than one realizes. Although the feet cease growth in adulthood, they still change shape as they mature. Here are some factors to consider when it comes to investing in proper fitting shoes:
Be sure the shoes fit correctly right away
Ensure the ball of your foot fits comfortably in the widest portion of the shoes
Even though they may look fashionable, improper fitting shoes can either create adverse conditions or exacerbate existing ones you may already have
Walk along a carpeted surface to ensure the shoes comfortably fit during normal activity
Keeping in mind how shoes fit the biomechanics of your body, properly-fitting shoes are vitally important. Fortunately, it is not difficult to acquire footwear that fits correctly. Be sure to wear shoes that support the overall structure of your body. Do your feet a favor and invest in several pairs of well-fitted shoes today.
If you have any questions please feel free to contact our offices located in Lockport and Medina, NY. We offer the newest diagnostic and treatment technologies for all your foot and ankle needs.
Read more about Proper Shoe Fitting
Monday, 16 March 2020 00:00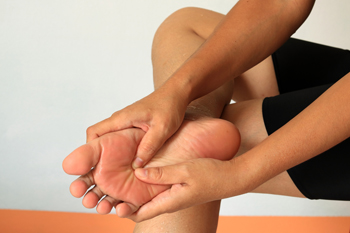 Research has indicated that majority of Americans will have foot pain at some point in their lives. The feet are considered to be the foundation of the body, and foot pain may hinder the ability to accomplish daily activities. A bunion is a common cause of foot pain. It is described as a bony protrusion that develops on the side of the big toe, and may come from wearing shoes that do not have adequate room for the toes to move freely in. A form of arthritis, known as gout, can cause severe pain and discomfort. This ailment is caused from a result of excess uric acid levels in the blood. Many people also experience a painful condition on the bottom of the foot that is referred to as a plantar wart. It is considered to be a contagious viral infection, and lives in warm and moist environments that can include swimming pools and locker rooms. If you have any type of foot pain, it is strongly advised that you are under the care of a podiatrist who can properly diagnose and treat your condition.
Foot Pain
Foot pain can be extremely painful and debilitating. If you have a foot pain, consult with Dr. Harry I. Zirna from Lockport Foot Care, PLLC. Dr. Zirna will assess your condition and provide you with quality foot and ankle treatment.
Causes
Foot pain is a very broad condition that could be caused by one or more ailments. The most common include:
Bunions
Hammertoes
Plantar Fasciitis
Bone Spurs
Corns
Tarsal Tunnel Syndrome
Ingrown Toenails
Arthritis (such as Gout, Rheumatoid, and Osteoarthritis)
Flat Feet
Injury (from stress fractures, broken toe, foot, ankle, Achilles tendon ruptures, and sprains)
And more
Diagnosis
To figure out the cause of foot pain, podiatrists utilize several different methods. This can range from simple visual inspections and sensation tests to X-rays and MRI scans. Prior medical history, family medical history, and any recent physical traumatic events will all be taken into consideration for a proper diagnosis.
Treatment
Treatment depends upon the cause of the foot pain. Whether it is resting, staying off the foot, or having surgery; podiatrists have a number of treatment options available for foot pain.
If you have any questions, please feel free to contact our offices located in Lockport and Medina, NY. We offer the newest diagnostic and treatment technologies for all your foot care needs.
Read more about Foot Pain
More...