Monday, 20 January 2020 00:00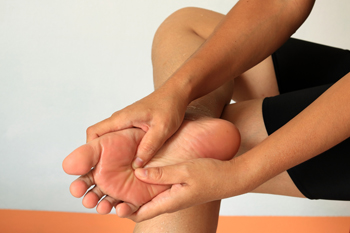 Those with peripheral artery disease, or PAD for short, may experience chronic ischemia, better known as a lack of blood supply. When this occurs, you may experience a dull, cramping pain in the affected area, commonly the feet, when exercising. The pain often stops when resting. This kind of symptom is referred to as claudication. For a proper diagnosis, a podiatrist may suggest taking an ABI, or ankle brachial index. This exam consists of using ultrasound images that will measure the blood pressure in your feet. This type of test is common for diagnosing PAD, and is painless. PAD is likely to develop among adults over the age of 50, and is especially common for those with diabetes. For more information about peripheral artery disease, and to discuss a plan for treatment, we recommend you consult with a podiatrist for professional care.
Peripheral artery disease can pose a serious risk to your health. It can increase the risk of stroke and heart attack. If you have symptoms of peripheral artery disease, consult with Dr. Harry I. Zirna from Lockport Foot Care, PLLC. Dr. Zirna will assess your condition and provide you with quality foot and ankle treatment.
Peripheral artery disease (PAD) is when arteries are constricted due to plaque (fatty deposits) build-up. This results in less blood flow to the legs and other extremities. The main cause of PAD is atherosclerosis, in which plaque builds up in the arteries.
Symptoms
Symptoms of PAD include:
Claudication (leg pain from walking)
Numbness in legs
Decrease in growth of leg hair and toenails
Paleness of the skin
Erectile dysfunction
Sores and wounds on legs and feet that won't heel
Coldness in one leg
It is important to note that a majority of individuals never show any symptoms of PAD.
Diagnosis
While PAD occurs in the legs and arteries, Podiatrists can diagnose PAD. Podiatrists utilize a test called an ankle-brachial index (ABI). An ABI test compares blood pressure in your arm to you ankle to see if any abnormality occurs. Ultrasound and imaging devices may also be used.
Treatment
Fortunately, lifestyle changes such as maintaining a healthy diet, exercising, managing cholesterol and blood sugar levels, and quitting smoking, can all treat PAD. Medications that prevent clots from occurring can be prescribed. Finally, in some cases, surgery may be recommended.
If you have any questions, please feel free to contact our offices located in Lockport and Medina, NY. We offer the newest diagnostic and treatment technologies for all your foot care needs.
Read more about Peripheral Artery Disease
Tuesday, 14 January 2020 00:00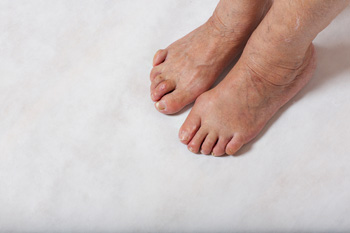 A hammertoe is a painful foot condition in which the toe bends downward, creating a hammer-like shape. They are normally caused by wearing shoes that are too tightly fitted, and may also be accompanied by the development of a bunion. In order to help straighten, and relieve the pain that comes with having a hammertoe, it may be useful to look into wearing orthotics. Some common orthotics used to help hammertoes include toe wraps. Toe wraps are elastic bandages with a Velcro strap, used to bind the hammertoe together with the toe next to it. Toe socks are socks that have five holes for each toe that help to keep them separated. Toe crest pads are also helpful, in that they wrap around the hammertoe and aid in preventing the toes from overlapping. For more information on orthotics and ways to help treat a hammertoe, we recommend you consult with a podiatrist for an advised treatment plan and professional care.
Hammertoe
Hammertoes can be a painful condition to live with. For more information, contact Dr. Harry I. Zirna from Lockport Foot Care, PLLC. Dr. Zirna will answer any of your foot- and ankle-related questions.
Hammertoe is a foot deformity that affects the joints of the second, third, fourth, or fifth toes of your feet. It is a painful foot condition in which these toes curl and arch up, which can often lead to pain when wearing footwear.
Symptoms
Pain in the affected toes
Development of corns or calluses due to friction
Inflammation
Redness
Contracture of the toes
Causes
Genetics – People who are genetically predisposed to hammertoe are often more susceptible
Arthritis – Because arthritis affects the joints in your toes, further deformities stemming from arthritis can occur
Trauma – Direct trauma to the toes could potentially lead to hammertoe
Ill-fitting shoes – Undue pressure on the front of the toes from ill-fitting shoes can potentially lead to the development of hammertoe
Treatment
Orthotics – Custom made inserts can be used to help relieve pressure placed on the toes and therefore relieve some of the pain associated with it
Medications – Oral medications such as anti-inflammatories or NSAIDs could be used to treat the pain and inflammation hammertoes causes. Injections of corticosteroids are also sometimes used
Surgery – In more severe cases where the hammertoes have become more rigid, foot surgery is a potential option
If you have any questions please contact our offices located in Lockport and Medina, NY. We offer the newest diagnostic and treatment technologies for all your foot and ankle needs.
Read more about What Are Hammertoes?
More...