Monday, 11 February 2019 00:00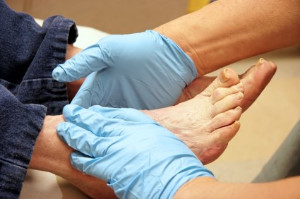 If you are a diabetic patient, it is important to know how to properly care for your feet. It is crucial to notice if there are any cuts or scrapes, and this may be beneficial in avoiding infections. Many diabetic patients suffer from neuropathy, and this is the inability to feel any sores that may be present on the feet. There are measures that can be implemented to care for diabetic feet, and these may include washing the feet daily, followed by drying thoroughly between the toes, avoid going barefoot, and refrain from cutting the toenails. This is typically done by a podiatrist, who is practiced in trimming the toenails correctly, which may avoid painful infections. Additionally, wearing shoes that fit properly and wearing socks that are not too tight may be beneficial in helping to take care of diabetic feet. If you are diabetic, it is advised you speak to a podiatrist as quickly as possible who can guide you to proper foot care.
Diabetic foot care is important in preventing foot ailments such as ulcers. If you are suffering from diabetes or have any other concerns about your feet, contact Dr. Harry I. Zirna from Lockport Foot Care, PLLC. Dr. Zirna can provide the care you need to keep you pain-free and on your feet.
Diabetic Foot Care
Diabetes affects millions of people every year. The condition can damage blood vessels in many parts of the body, especially the feet. Because of this, taking care of your feet is essential if you have diabetes, and having a podiatrist help monitor your foot health is highly recommended.
The Importance of Caring for Your Feet
Routinely inspect your feet for bruises or sores.
Wear socks that fit your feet comfortably.
Wear comfortable shoes that provide adequate support.
Patients with diabetes should have their doctor monitor their blood levels, as blood sugar levels play such a huge role in diabetic care. Monitoring these levels on a regular basis is highly advised.
It is always best to inform your healthcare professional of any concerns you may have regarding your feet, especially for diabetic patients. Early treatment and routine foot examinations are keys to maintaining proper health, especially because severe complications can arise if proper treatment is not applied.
If you have any questions please feel free to contact our offices located in Lockport and Medina, NY. We offer the newest diagnostic and treatment technologies for all your foot and ankle needs.
Read more about Diabetic Foot Care
Monday, 04 February 2019 00:00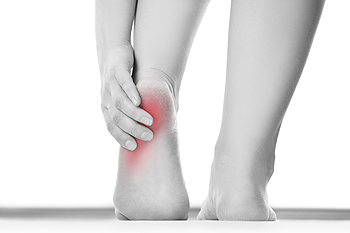 If you are suffering from a sharp pain stemming from your heel, then you may have a heel spur. A heel spur is a calcium deposit that causes a hard protrusion underneath your heel bone. Oftentimes, they are linked to plantar fasciitis, which causes inflammation along the connective tissue between the heel bone and the ball of the foot. In an attempt to protect the heel's surrounding tissues, cells migrate to the area and start depositing calcium. This build-up of calcium usually takes many months to fully form and is only visible by an X-ray. The heel spur only becomes painful, when it spreads into the surrounding tissues. For the most part, heel spurs do not exhibit any symptoms and do not cause any pain. This is due to the fact that the deposits of calcium are put there by the body's bone-forming mechanisms, so they are smooth and flat. If you think you may have a heel spur or would like any additional information about them, then it is suggested that you speak with a podiatrist.
Heel spurs can be incredibly painful and sometimes may make you unable to participate in physical activities. To get medical care for your heel spurs, contact Dr. Harry I. Zirna from Lockport Foot Care, PLLC. Dr. Zirna will do everything possible to treat your condition.
Heels Spurs
Heel spurs are formed by calcium deposits on the back of the foot where the heel is. This can also be caused by small fragments of bone breaking off one section of the foot, attaching onto the back of the foot. Heel spurs can also be bone growth on the back of the foot and may grow in the direction of the arch of the foot.
Older individuals usually suffer from heel spurs and pain sometimes intensifies with age. One of the main conditions spurs are related to is plantar fasciitis.
Pain
The pain associated with spurs is often because of weight placed on the feet. When someone is walking, their entire weight is concentrated on the feet. Bone spurs then have the tendency to affect other bones and tissues around the foot. As the pain continues, the feet will become tender and sensitive over time.
Treatments
There are many ways to treat heel spurs. If one is suffering from heel spurs in conjunction with pain, there are several methods for healing. Medication, surgery, and herbal care are some options.
If you have any questions feel free to contact our offices located in Lockport and Medina, NY. We offer the latest in diagnostic and treatment technology to meet your needs.
Read more about Heel Spurs
More...