Monday, 29 April 2019 00:00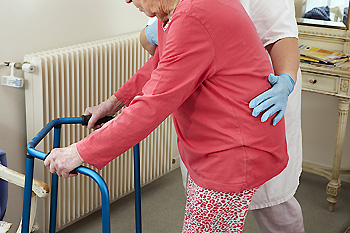 Many elderly people who fall may find difficulty in getting up without assistance. Research has shown that twenty percent of people in their mid-sixties will endure a fall, and many of these falls may lead to serious injuries. This is one reason why it is important to implement methods to help prevent falling. These may include learning about side effects that may occur while existing medications are taken, wearing glasses, using hearing aids consistently, and removing any clutter in the home that may be present. It may also be helpful to wear shoes that fit correctly, and using grab bars in the bathroom and shower area can play a significant role in preventing falls. If you would like additional information about the importance of falls prevention, please consult with a podiatrist.
Preventing falls among the elderly is very important. If you are older and have fallen or fear that you are prone to falling, consult with Dr. Harry I. Zirna from Lockport Foot Care, PLLC. Dr. Zirna will assess your condition and provide you with quality advice and care.
Every 11 seconds, an elderly American is being treated in an emergency room for a fall related injury. Falls are the leading cause of head and hip injuries for those 65 and older. Due to decreases in strength, balance, senses, and lack of awareness, elderly persons are very susceptible to falling. Thankfully, there are a number of things older persons can do to prevent falls.
How to Prevent Falls
Some effective methods that older persons can do to prevent falls include:
Enrolling in strength and balance exercise program to increase balance and strength
Periodically having your sight and hearing checked
Discuss any medications you have with a doctor to see if it increases the risk of falling
Clearing the house of falling hazards and installing devices like grab bars and railings
Utilizing a walker or cane
Wearing shoes that provide good support and cushioning
Talking to family members about falling and increasing awareness
Falling can be a traumatic and embarrassing experience for elderly persons; this can make them less willing to leave the house, and less willing to talk to someone about their fears of falling. Doing such things, however, will increase the likelihood of tripping or losing one's balance. Knowing the causes of falling and how to prevent them is the best way to mitigate the risk of serious injury.
If you have any questions, please feel free to contact our offices located in Lockport and Medina, NY. We offer the newest diagnostic and treatment technologies for all your foot care needs.
Read more about Falls Prevention
Tuesday, 23 April 2019 00:00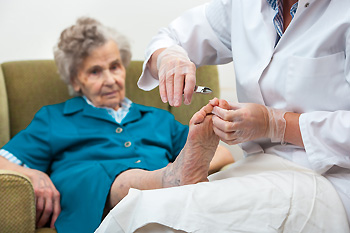 An important facet of caring for elderly people may involve paying close attention to their feet. This can be accomplished by noticing if there are any changes that may have occurred. There are symptoms to look for which may include open sores, discoloration, or pain. There are measures that can be implemented which may prevent uncomfortable foot conditions from developing. Cracked heels may be avoided by washing and drying the feet thoroughly, followed by utilizing a moisturizing cream. Additionally, it's important to properly trim the toenails which may prevent ingrown toenails from developing. It may be beneficial to measure the feet frequently, and buy appropriate footwear that can accommodate changes in size. If you would like additional information about how to care for elderly feet, it is suggested that you speak to a podiatrist.
Proper foot care is something many older adults forget to consider. If you have any concerns about your feet and ankles, contact Dr. Harry I. Zirna from Lockport Foot Care, PLLC. Dr. Zirna can provide the care you need to keep you pain-free and on your feet.
The Elderly and Their Feet
As we age we start to notice many changes in our body, but the elder population may not notice them right away. Medical conditions may prevent the elderly to take notice of their foot health right away. Poor vision is a lead contributor to not taking action for the elderly.
Common Conditions
Neuropathy – can reduce feeling in the feet and can hide many life-threatening medical conditions.
Reduced flexibility – prevents the ability of proper toenail trimming, and foot cleaning. If left untreated, it may lead to further medical issues.
Foot sores – amongst the older population can be serious before they are discovered. Some of the problematic conditions they may face are:
Gouging toenails affecting nearby toe
Shoes that don't fit properly
Pressure sores
Loss of circulation in legs & feet
Edema & swelling of feet and ankles
Susceptible Infections
Diabetes and poor circulation can cause general loss of sensitivity over the years, turning a simple cut into a serious issue.
If you have any questions please feel free to contact our offices located in Lockport and Medina, NY. We offer the newest diagnostic and treatment technologies for all your foot and ankle needs.
Read more about Elderly and their Feet
More...