Monday, 15 October 2018 00:00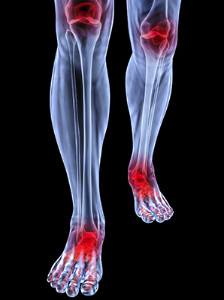 The condition known as rheumatoid arthritis is a painful ailment that typically affects the muscles and joints. When this occurs in the feet, the toenails may become affected in addition to the patient possibly experiencing pain and stiffness. The discomfort is generally felt in the smaller joints in the feet, and this can possibly lead to the formation of corns and bunions. In severe cases, the toes may curl and hammertoe may develop as a result of this. This particular form of arthritis occurs when the body's immune system is compromised. The ability to fight infection is diminished, and this may cause pain and swelling to gradually develop. If you are afflicted with rheumatoid arthritis in the joints of the feet, it's strongly suggested that you consult with a podiatrist, so correct treatment can commence.
Because RA affects more than just your joints, including the joints in your feet and ankles, it is important to seek early diagnosis from your podiatrist if you feel like the pain in your feet might be caused by RA. For more information, contact Dr. Harry I. Zirna of Lockport Foot Care, PLLC. Dr. Zirna will assist you with all of your podiatric concerns.
What Is Rheumatoid Arthritis?
Rheumatoid Arthritis (RA) is an autoimmune disorder in which the body's own immune system attacks the membranes surrounding the joints. Inflammation of the lining and eventually the destruction of the joint's cartilage and bone occur, causing severe pain and immobility.
Rheumatoid Arthritis of the Feet
Although RA usually attacks multiple bones and joints throughout the entire body, almost 90 percent of cases result in pain in the foot or ankle area.
Symptoms
Swelling and pain in the feet
Stiffness in the feet
Pain on the ball or sole of feet
Joint shift and deformation
Diagnosis
Quick diagnosis of RA in the feet is important so that the podiatrist can treat the area effectively. Your doctor will ask you about your medical history, occupation, and lifestyle to determine the origin of the condition. Rheumatoid Factor tests help to determine if someone is affected by the disease.
If you have any questions please feel free to contact our offices located in Lockport and Medina, NY. We offer the newest diagnostic and treatment technologies for all your foot and ankle needs.
Read more about Rheumatoid Arthritis in the Feet
Monday, 08 October 2018 00:00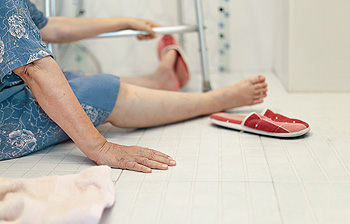 It is common for many elderly people to suffer from general foot conditions including blisters and ingrown toenails. This may be a result of improper foot care that is not executed. Many seniors may have difficulty in trimming their toenails. Therefore, it may be beneficial to have a caretaker perform the proper tasks that will maintain good foot health. When the toenails are clean and the skin is moisturized, the chances of certain foot conditions developing may be diminished. Daily foot and nail hygiene may include trimming the toenails short using nail clippers, in addition to buffing the nails thus providing a smooth finish to the nail. This may prevent painful and uncomfortable ingrown toenails from developing. It's important to consult with a podiatrist for any concerns you may have on how to take proper care of elderly feet.
Proper foot care is something many older adults forget to consider. If you have any concerns about your feet and ankles, contact Dr. Harry I. Zirna from Lockport Foot Care, PLLC. Dr. Zirna can provide the care you need to keep you pain-free and on your feet.
The Elderly and Their Feet
As we age we start to notice many changes in our body, but the elder population may not notice them right away. Medical conditions may prevent the elderly to take notice of their foot health right away. Poor vision is a lead contributor to not taking action for the elderly.
Common Conditions
Neuropathy – can reduce feeling in the feet and can hide many life-threatening medical conditions.
Reduced flexibility – prevents the ability of proper toenail trimming, and foot cleaning. If left untreated, it may lead to further medical issues.
Foot sores – amongst the older population can be serious before they are discovered. Some of the problematic conditions they may face are:
Gouging toenails affecting nearby toe
Shoes that don't fit properly
Pressure sores
Loss of circulation in legs & feet
Edema & swelling of feet and ankles
Susceptible Infections
Diabetes and poor circulation can cause general loss of sensitivity over the years, turning a simple cut into a serious issue.
If you have any questions please feel free to contact our offices located in Lockport and Medina, NY. We offer the newest diagnostic and treatment technologies for all your foot and ankle needs.
Read more about Taking Care of Elderly Feet
More...