Monday, 25 March 2019 00:00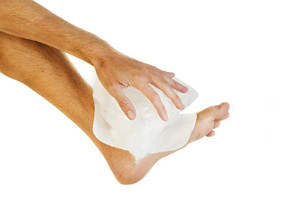 Ankle pain is the general term that encompasses several types of chronic foot conditions and injuries. These may include ankle arthritis, stress fractures, and sprains. There are various symptoms that are associated with different types of ankle injuries, which may consist of pain, throbbing, or burning. If your ankle is sprained, it generally means that an injury has occurred to the ligaments that connect the bones together. This may happen from unexpectedly stepping off a curb, falling, or participating in running and jumping activities. This type of injury may often be accompanied by pain, bruising, or swelling. Additionally, rheumatoid arthritis is considered to be an autoimmune condition, and may attack the joints in the ankle. If you have any type of ankle pain, it is advised that you speak to a podiatrist as quickly as possible who can determine the cause and begin proper treatment.
Ankle pain can be caused by a number of problems and may be potentially serious. If you have ankle pain, consult with Dr. Harry I. Zirna from Lockport Foot Care, PLLC. Dr. Zirna will assess your condition and provide you with quality foot and ankle treatment.
Ankle pain is any condition that causes pain in the ankle. Due to the fact that the ankle consists of tendons, muscles, bones, and ligaments, ankle pain can come from a number of different conditions.
Causes
The most common causes of ankle pain include:
Types of arthritis (rheumatoid, osteoarthritis, and gout)
Ankle sprains
Broken ankles
Achilles tendinitis
Achilles tendon rupture
Stress fractures
Bursitis
Tarsal tunnel syndrome
Plantar fasciitis
Symptoms
Symptoms of ankle injury vary based upon the condition. Pain may include general pain and discomfort, swelling, aching, redness, bruising, burning or stabbing sensations, and/or loss of sensation.
Diagnosis
Due to the wide variety of potential causes of ankle pain, podiatrists will utilize a number of different methods to properly diagnose ankle pain. This can include asking for personal and family medical histories and of any recent injuries. Further diagnosis may include sensation tests, a physical examination, and potentially x-rays or other imaging tests.
Treatment
Just as the range of causes varies widely, so do treatments. Some more common treatments are rest, ice packs, keeping pressure off the foot, orthotics and braces, medication for inflammation and pain, and surgery.
If you have any questions, please feel free to contact our offices located in Lockport and Medina, NY. We offer the newest diagnostic and treatment technologies for all your foot care needs.
Read more about Ankle Pain
Monday, 18 March 2019 00:00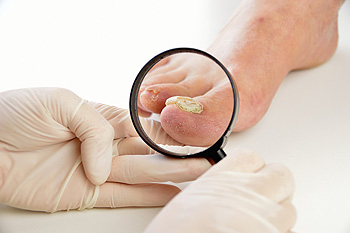 One of the first symptoms of a condition that is known as toenail fungus is nail discoloration. Additionally, the nails may become thickened and brittle, and it is common for it to spread to other nails. This particular fungus lives and thrives in warm and moist environments which may include public pools, shower room floors, or locker rooms. Some patients may develop this fungus by having wet nails for the majority of the time, and this may come from wearing sweaty shoes and socks. People who are diabetic or have a weakened immune system may benefit from seeking immediate treatment. These patients may experience sores that do not heal properly, and an early diagnosis may determine if it is a nail infection. If you feel you may have this condition, it is suggested to speak to a podiatrist who can properly diagnosis and treat this ailment.
For more information about treatment, contact Dr. Harry I. Zirna of Lockport Foot Care, PLLC. Dr. Zirna can provide the care you need to keep you pain-free and on your feet.
Toenail Fungus Treatment
Toenail fungus is a condition that affects many people and can be especially hard to get rid of. Fortunately, there are several methods to go about treating and avoiding it.
Antifungals & Deterrence
Oral antifungal medicine has been shown to be effective in many cases. It is important to consult with a podiatrist to determine the proper regiment for you, or potentially explore other options.
Applying foot powder on the feet and shoes helps keep the feet free of moisture and sweat.
Sandals or open toed shoes – Wearing these will allow air movement and help keep feet dry. They also expose your feet to light, which fungus cannot tolerate. Socks with moisture wicking material also help as well.
If you have any questions please feel free to contact our offices located in Lockport and Medina, NY. We offer the newest diagnostic tools and technology to treat your foot and ankle needs.
Read more about Toenail Fungus
More...